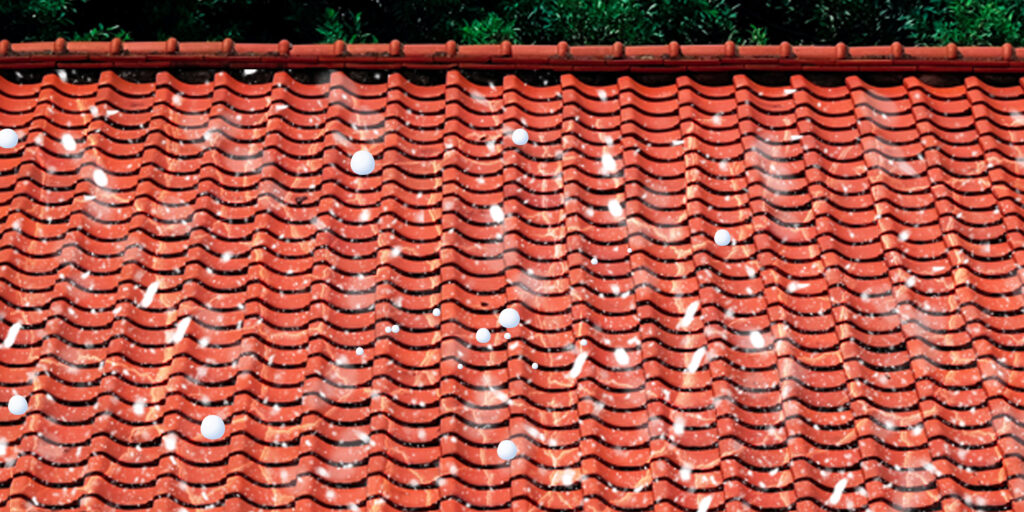 Hail damage is a deceptive and serious threat to property owners throughout the U.S. and abroad, causing in excess of $1 billion in damages to property and crops each year. Even the smallest hail can cause damage to young plantings. To add insult to injury, hailstones fall at higher speeds as they grow in size; some can fall as fast as 100 mph and contain foreign matter.
If you live in an area prone to severe weather and have a low slope or flat roof with asphalt shingles, you are in the high risk for hail damage category. The good news is that most business and individual homeowner's policies cover hail damage.
As far as the United States is concerned, hail is most prevalent where Colorado, Nebraska and Wyoming meet; an area coined Hail Alley. Cheyenne, Wyoming ranks as the number one most prone city in the United States for a hailstorm.
Hail falls many times a year, and has real potential to cause severe damage. Aircraft, automobiles, crops, physical property, etc. are all vulnerable to hail; severely denting, shattering and conceivably even demolishing assets. One of the most significant hail claims result from roof damage. Roof insurance claims require a lot of knowledge about roof construction and history of the roof in question. Our view is that many roof damage claims result in poorly repaired roofs. Insurers sometimes share in that blame because they drive down price using unrealistic preferred vendor pricing, hire outcome oriented insurance experts that fail to fully explain the loss, and not allowing proper scope of work.
Hailstorm claims, as well as other natural disaster claims, are on the rise as population density and development increases all over the nation. At the same time, more insurance companies appear to be dishonoring their agreements. Increasingly, they are paying only a fraction of the claim, making excuses for delay, or refusing to pay anything at all.
Insurance companies will almost always look to limit or exclude coverage to policyholders. In the event of damage to your home and/or property from hail, there are a series of very important steps you should take to ensure that you get the benefits your insurance policy owes you. It is important to keep current photos of your home and property for comparison purposes with your insurance company, in case of disaster. Also, make sure to properly document all damages as a result of the hail.
TIPS FOR ENSURING ADEQUATE PAYMENTS FROM AN INSURER TO?PROPERLY REPLACE A HAIL DAMAGED ROOF
Immediately notify the carrier of all damage.
Inform the insurance adjuster an expert needs to determine the condition of the entire roof system, in addition to areas immediately visible.
Review the property insurance policy to determine which provisions may apply to the damage. If a complete copy of the policy is not available, make a written request to the adjuster to obtain a complete certified copy of the policy (including all endorsements) as soon as possible.
Retain an expert in roof repair and replacement to perform non-destructive testing in conjunction with core cuts to determine if the damaged top layer (i.e., EPDM, TPO, Built-Up, Modified Bitumen, shake shingles, asphalt shingles) can be replaced with or without additional work to substrate, insulation, sheathing or decking based on code and manufacturer specifications for repair/replacement.
Document everything including test results, photos of all substrate layers down to the roof deck, and the expert's findings/conclusions.
Provide the adjuster with maintenance records, which may show the roof functioned properly until the date of loss.
If your expert/roofing contractor determines any substrate, including the structural deck, must also be repaired or replaced in order to put the roof back to its pre-loss condition and functionality, immediately provide all information for this additional covered insurance benefit to the adjuster.